We first visited the Surprise Tank Petroglyphs out in the Mojave Desert in 1998. We've stopped by a few times since then but didn't really photograph the site again until 2009. We re-visited the site in 2013, 2018, and 2020. I wanted to get a few more photos than in my earlier visits. This is a fascinating (and large) petroglyph site and well worth the visit.
Most of the petroglyphs on the dark basalt rocks are of abstract design, although there are a few bighorn sheep and a couple of anthropomorphs. They are likely to have been made by the Desert Serrano and Desert Archaic cultures. Some of the petroglyphs could be 10,000 years old.
The lava flow forms a natural tank here that would have held rainwater for an extended period of time. A few mesquites grow here as well. Both are vital resources in this arid land.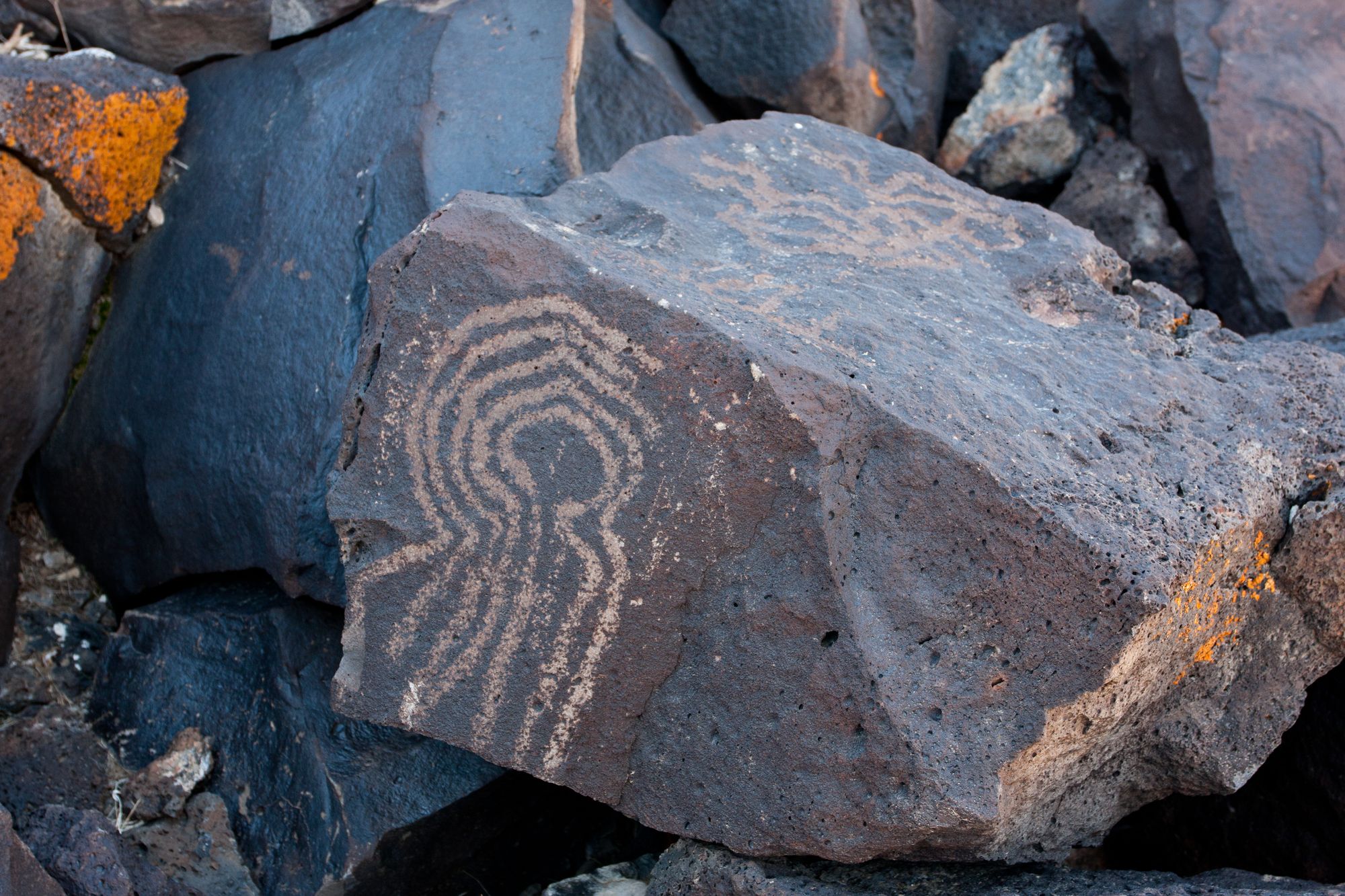 ---
Directions
Road: 26.3 miles, High Clearance required. Usually, not 4WD.
Hike: Easy hike, 0.9 miles Out and back, 70 ft gain round trip. 30 minutes.
From Barstow, head east eight miles on I-40 to the Daggett (A St.) off-ramp. Turn right and then left onto the frontage road and then into the hills on the graded dirt Camp Rock Road. After 18.25 miles, you will pass Troy Road. Continue straight, and it will become the Pipkin Cinder Cone Road as it climbs into the hills. At 24.4 miles, and as you are approaching the cinder mine, turn right onto the NR8460 Canyon dirt road. It is about two miles to the trailhead from here. 4WD High Clearance is recommended for the last mile to the trailhead.
From the trailhead, hike along the old road on the right-hand side of the canyon to the old parking area. Drop down into the wash and follow it to the petroglyphs. They start just after the old parking area and are on both sides of the canyon. The petroglyphs end at the dry fall where the canyon pinches out.
Look for another set of petroglyphs on the cliffs above the parking area. Be careful hiking on the steep hillsides.
Take only pictures, leave only footprints, and please respect these sites.
Overview map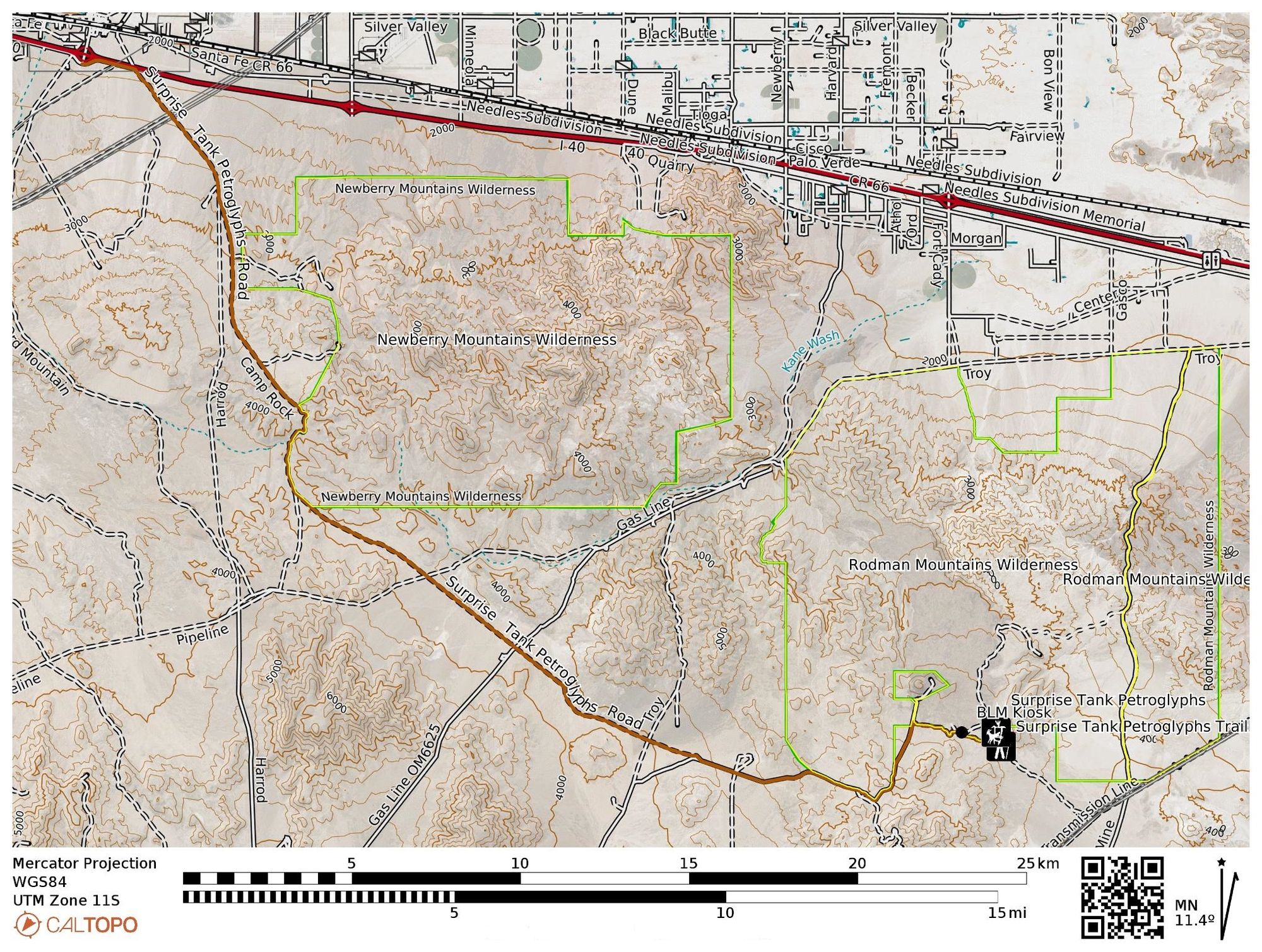 Detail map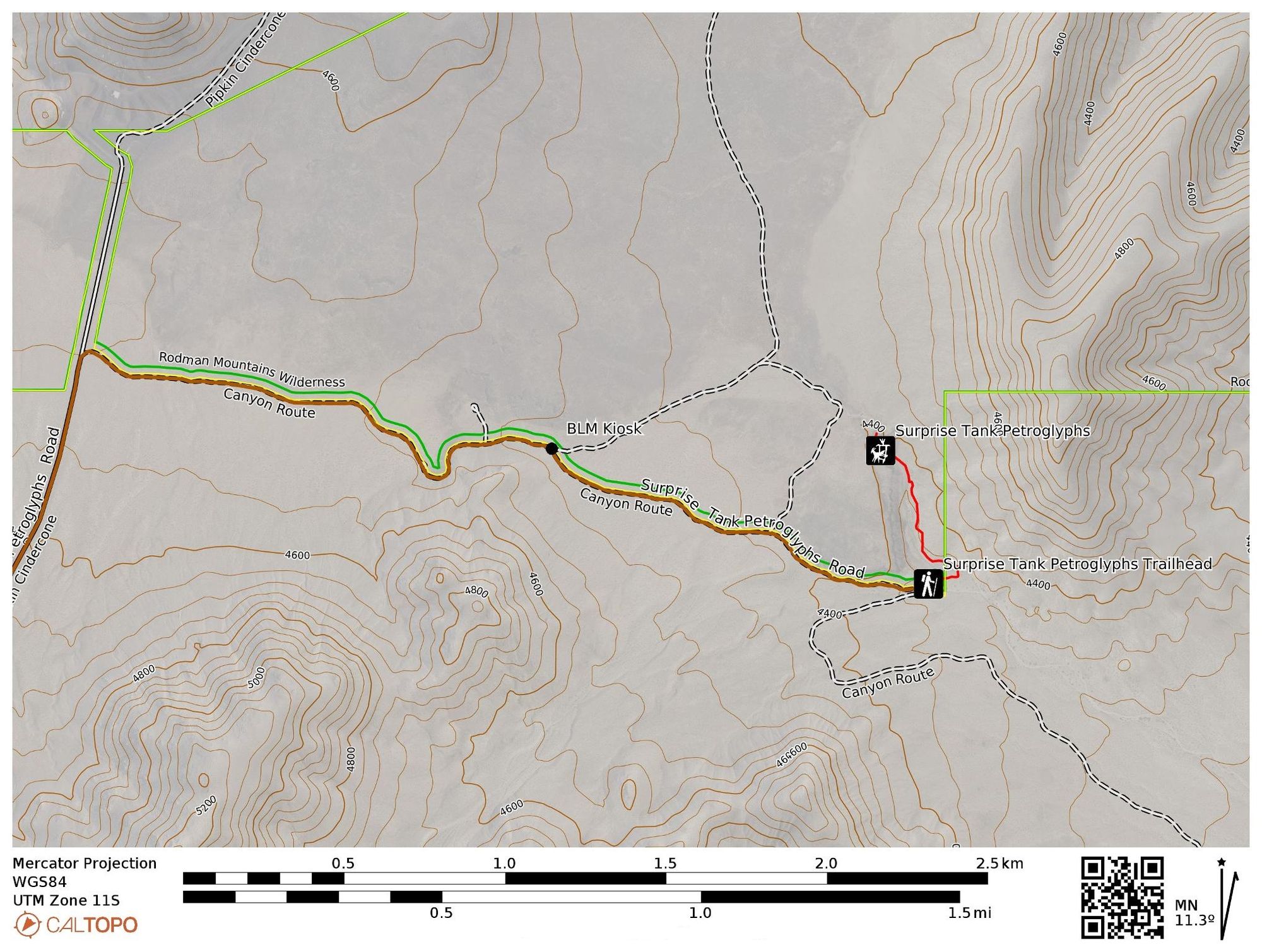 To download waypoints and routes, open the Map in CalTopo, click Export (in the top left corner), and change the format to KML or GPX.
Start at OM7225SLO Camp Rock Road: 34.8526°, -116.8909°
OM7225SLO Camp Rock Road and NR8420 Cinder Cone Road junction: 34.667°, -116.6902°
NR8420 Cinder Cone Road and NR8460 Canyon Road junction: 34.6773°, -116.6218°
Surprise Tank Trailhead: 34.6709°, -116.5932°
Surprise Tank Petroglyphs: 34.6746°, -116.5948°