Pipes Canyon is a pleasant and easy hike. The trail heads out from the visitor center at the Pioneertown Mountains Preserve and follows the canyon up into a riparian habitat. The canyon is usually dry, but water does occasionally surface to support this isolated oasis.
Keep an eye out for faint petroglyphs along the way. Normally, they would be my primary reason for exploring this canyon, but I came across a bit of history that got me interested in checking out a spot higher up the canyon.
John Olsen
A couple of miles from the mouth of Pipes Canyon are the remains of a stone cabin. Swedish miner John Olsen built it (along with his partner Pete Lager) in the 1930s as a winter cabin for their mining operations. They worked the Onyx Mine up in the mountains high above the cabin.
On a snowy January 12th in 1945, the 76-year-old miner was living alone in his cabin when a twenty-year-old stranger knocked on his door, out there in the middle of nowhere, and asked for food and lodging for a few days. Mr. Olsen, being the friendly sort of fellow, made his guest welcome. The young guest was Edward E. Emmery. He quickly took a keen interest in Mr. Olsen's rifle.
Three days after arriving, he shot Olsen in the chest. And instead of going for help, he left the elderly man for dead.
Four days later, his old mining partner Pete Lager, came by to visit and found Olsen lying on the cabin floor and barely alive. He had survived by crawling over to his pantry and eating some dried peaches that he could reach.
Pete quickly drove him to a neighbor's house and called for an ambulance. Olsen was taken to a hospital in Palm Springs where he died twelve days later. Olsen was one of the earliest settlers to the Pipes Canyon area and was well-liked by everyone who knew him.
Of course, a manhunt was immediately on after the killer. Emmery was found by sheriff's deputies a few days later hiding out only a half-mile farther up the canyon with many of Olsen's supplies; including his rifle. He had deserted from the Army at Fort MacArthur in San Pedro two weeks earlier and came to Pipes Canyon to hide out when he stumbled upon Olsen. Emmery was charged with murder but sadly, I could not find out if they convicted him.
If you have anything to add to this story, please let me know.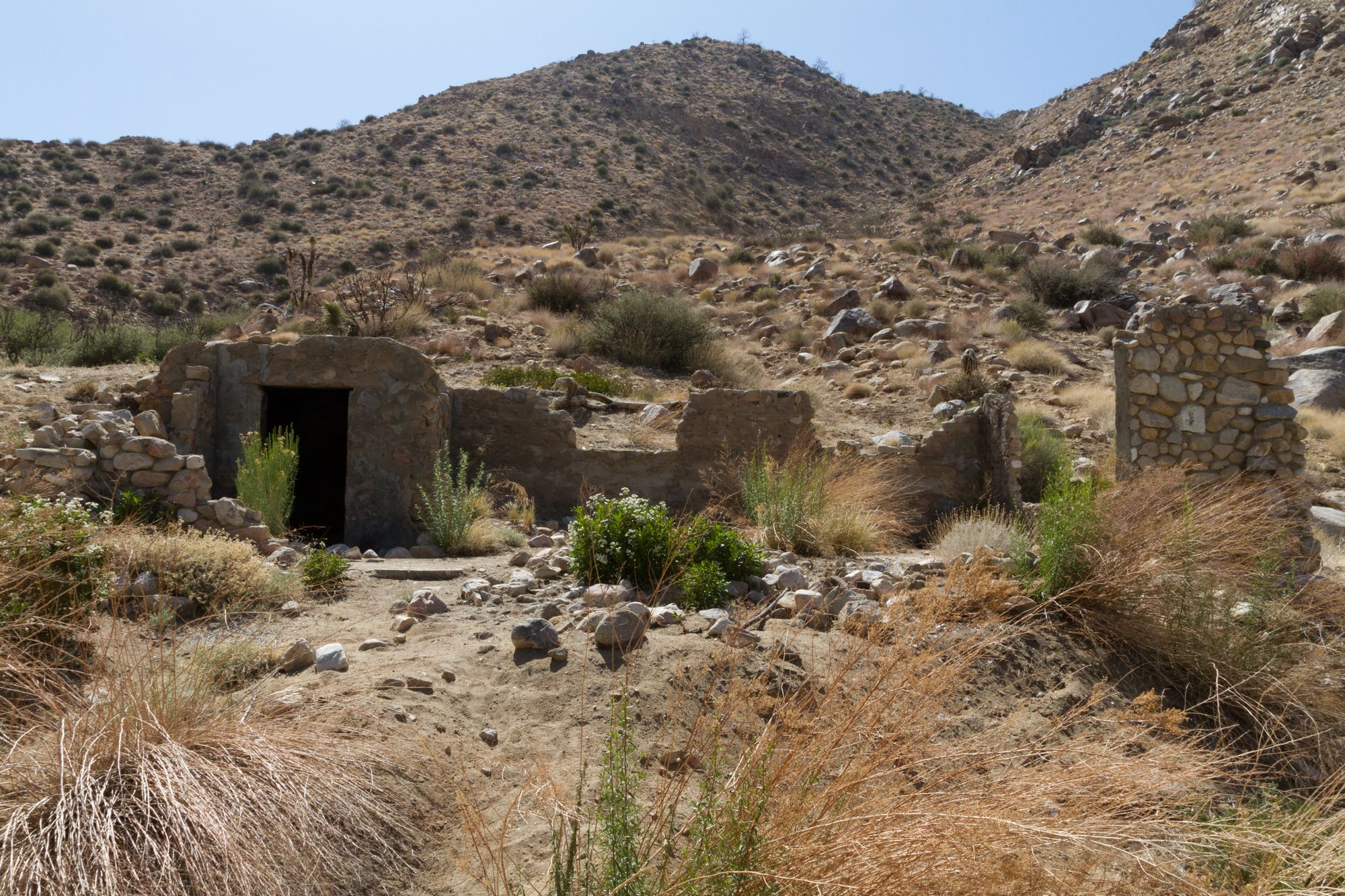 Directions